[november 2016]
TWO NEW ALBUMS:
~~~
ALONE: "UNYOU"
limited edition tape [100 copies] & digital, released 14th november 2016 on Chondritic Sound. the album is a collection of dark solipsist electronic songs played manually in one go with no overdubs. 'UNYOU' is theoretizing a collision of selves on a model of celestial bodies.
more info and lyrics are here.
stream and download here.
get physical copy here.




~~~
ALONE IN HEAVEN & MAGMA TRAKT: "ZARDOZ"
limited edition tape [80 copies] & digital release on SEASTATE label in germany.
collaborative album between ALONE IN HEAVEN [music] and MAGMA TRAKT [words]. 44+ minutes long synthetic sci fi symphony with a pseudo scientific lecture / sermon about the entity and cult of ZARDOZ. inspired by a vague, sketchy memory of a few scenes from a movie of the same name i saw decades ago as a child. tape edition contains a 31+ minutes long bonus track. i consider this to be my chef-d'œuvre and surely one of the biggest milestones in my discography.
promo video is here.
stream the album and get your copy here.
lyrics are here.




~~~

ALONE live @ flexipunk party, belgrade 19. november 2015, supporting 1/2 [zagreb] on his farewell / transformation concert. for details click the flyer:





~~~

LIVE DATES, SEPTEMBER 2015
mini tour with ALONE, DOLINA, FROE CHAR, plus other acts. click on the links for more info:
19. PARIS - spielzeug muzak fest with les plastiques armes and cellule 34
22. STRASBOURG with konvoj bonton bajkera
23. BRUSSELS
25. DIJON
check back for more possible dates.




~~~

[april 2015]
NEW ALBUM:
ALONE: "COAST" LP
released by unique spielzeug muzak in france, limited edition vinyl of 300 copies. a collection of 8 gloomy synthetic lullabyes and scientific love songs. this is the most sleepy and foggiest alone album thus far, emotionally calm but sonically colourful as ever. it introduces the lead vocals by igor petrušić and draginja marić, mixed with the familiar voice of nikola vitković. cover artwork by temple vengeance, mastered by patrick scott. more info and lyrics are to be found here. you can stream the full album on bandcamp, or you can get your copy here.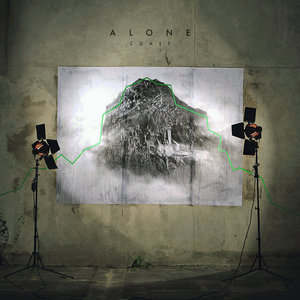 ~~~

VIDEO: TVOJ SAN
first and last ever [?] official video by alone, for a track 'TVOJ SAN' from LP COAST, directed by zoran đurković. starring igor petrušić [voice], nikola vitković [backing voice & synth] and nataša šarkić. see it here.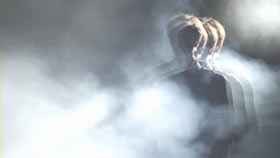 ~~~

NEW RELEASE:
compilation JUBILEE JAMBOREE celebrating 10 years anniversary of [T]reue um [T]reue Tonträger on double vinyl [purple & red], brings the first and last official cover song by ALONE - track SUN BACKWARDS, originally written by DOLINA, completely reprogrammed and with voices by both Najah and Nikola. also DOLINA covered the track AEON WAVE, originally written by ALONE. there are lots of amazing incestous covers on this one, get further informed and get your copy here.




~~~

upcoming ALONE concert: NEON NACHT party in drugstore club, belgrade, opening for PURE GROUND, 3rd june 2015. event info is here.

~~~

upcoming nano-tour for ALONE and KONVOJ BONTON BAJKERA, autumn 2014:
september 18, brussels @ café central. more info
september 19, antwerpen @ de kleine hedonist, hosted by aimé le chevalier / walhalla records. more info
september 21, paris @ le buzz, hosted by disco kaos / spielzeug muzak. more info
october 21, belgrade @ drugstore, w/ xeno & oaklander and yusyus, hosted by neon nacht.
come over and hear the songs from forgotten past and uncertain future of no land's man.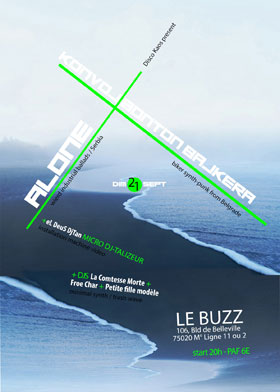 ~~~

ALONE will perform live with THE SPACE LADY, MARIA VIOLENZA and SZENTCSALAD ORAL ORCHESTRA in kontra klub in Budapest on Küss Mich party, 10. September 2014. for more info click on the poster.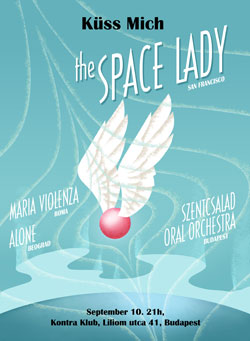 ~~~

ALONE will perform live on MAD IN BELGRADE festival, on a stage curated by NEON NACHT / ELEKTRANA. the exact time and place is may 24th at 12:45 in the afternoon, on 2044 boat in belgrade. more info here.

~~~

NEW RELEASE [march 2014]
ALONE IN HEAVEN: "POSLEDNJA MUZIKA"
single sided cassette album, limited edition of 55 physically modified copies which can be played only once, handmade packaging, released by No Basement Is Deep Enough #31.
to obtain a copy, please write to ignacedb ]at[ hotmail ]dot[ com.
soundsamples are on a label's soundcloud.
more details here.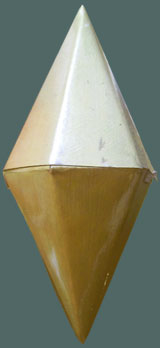 ~~~

ALONE will perform live on 6th february 2014 in laika club, belgrade, on flexipunk hosted SPIELZEUG MUZAK festival, together with I/S ILLUSTRATION SONORE, :CODES, MERCI LA NUIT and nikola vitković's new electro rock band KONVOJ BONTON BAJKERA. for more info click here.

~~~
two ALONE albums 'ANALIZA' and 'AEON WAVE' are available on cold trinity bandcamp [together with the whole back catalogue of the label] for free streaming and sale as digital albums. Originally released on CD-rs in 2003 and 2007 respectfully, they have been out of print for years now.


~~~
ALONE IN HEAVEN will make a small video contribution to the multimedia event TOPLOTNA SMRT SVEMIRA which takes place on december 26th in Belgrade's Planetarium on Kalemegdan, and will include performances and works by -MRTVI-, UNEXISTENCE, POSLEDNJI, Dobrica Kamperelić and Miroljub Todorović. more info here.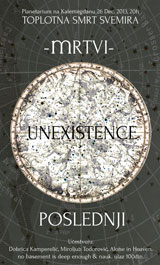 ~~~
NEW RELEASE [january 2013]
ALONE: "Live 2012"
live album of unreleased tracks and reworks of familiar tracks, recorded in belgrade, ljubljana and pančevo during an extensive concert season. numbered cd-r in dvd case, each copy comes with a different photo inside. for tracklist and details come here. sound previews available on soundcloud. copies available directly via

.



~~~

ALONE live in Wien, Fluc, January 19. 2013
a Vanity Vague party, featuring:
Jenny ¥ohn & Giorgio [zellophan / at / dj-set]
Sirius & Darktunes [new romantic synthwave / host djs]
for more info click on the picture.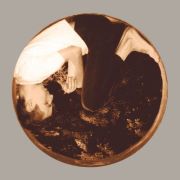 ~~~
ALONE will play live on FLEXIPUNK party in ŽICA, belgrade, 25 october at 21h. free entrance. more info here.





on a side note, some recent unadvertised and unforgettable events: ALONE, Aimé le Chevalier & Sir Edward in AUDIO PLANT antwerpen + ALONE IN HEAVEN / zavod za istraživanje in KC REX, belgrade]

~~~

new LIVE dates for ALONE:

thursday 4th october
"ballads of the lonely synths"
ALONE / AME DE BOUE / FROE CHAR
la cantine, 108 boulevard de belleville 75020 paris
click on the flyer for more info: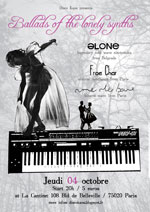 saturday 6th october
ALONE live + PALAIS CHALET 12" compilation release party
la compilotheque, 50 quai des péniches, 1000 brussels
click on the flyer for more info: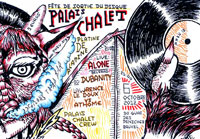 ~~~

ALONE on TOUR 2012

during july 2012 ALONE will be touring as a part of "balkan pirates tour" which, apart from ALONE concerts, also involves screening of the documentary "on the quest for beograd underground" and an exhibition of "distorted mirror" comics anthology. if you are interested to book this multi-dimensional-media event, or a separate ALONE concert, drop an email. listed are also some pre- and post- touring shows.

9. june - novo doba, dom omladine pančevo, serbia

28. june - laika, belgrade, serbia
1. july - roter bogen, wien, austria
2. july - freiraum e.v., zittau, germany
3. july - skorbut, leipzig, germany
4. july - werk.stadt.laden, dresden, germany
5. july - loophole, berlin, germany
10. july - fabrik im gängeviertel, hamburg, germany
14. july - open air ottensheim, ottenshaim, austria
18. july - menza pri koritu, ljubljana, slovenia
19. july - medika, zagreb, croatia
20. july - leglo, bihać, bosnia and herzegovina
21. july - fis, sarajevo, bosnia and herzegovina

special event:
dom omladine pančevo 9. june 2012, 22h.
on NOVO DOBA festival of non-aligned comics [and graphics and music], ALONE will perform a micro set of 90's material on the promo party of CRNI PEK compilation, of 90's weird / outsider music from serbia. for detailed info visit the festival page.

~~~

ALONE LIVE
with 1/2 from zagreb
thursday 17 may, 21h
club ŽICA [kraljevića marka 5, belgrade]
+ appropriate cold electro wave metalbeat cryogenica mix by flexipunk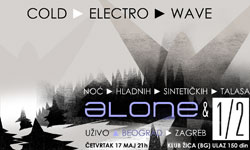 more upcoming shows and east / mid european tour will happen in late june / july 2012. check this page for upcoming dates & details.

~~~

[1. December 2011]!
ALONE: "AN UNREAD NOTE" 7" single
limited edition, released on ECHOPLAY label, germany.
details here.
order here.


~~~

a very nice review of "UNTITLED / AZOT" EP has just been published on muzika.hr and small doses.

~~~

[june 2011]!
ALONE IN HEAVEN: "UNTITLED / AZOT" CDr
a double EP with glossy colour booklet, released on prestigious micro label 0.5 in croatia.
more information and tracklist here.
buy CD-r / hear MP3 here.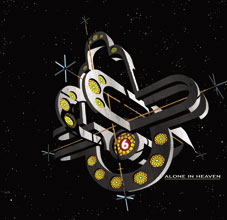 ~~~

[1. may 2011]!
ALONE IN HEAVEN: "VISIJA" cassette
full length album, self released, limited edition.
more info here.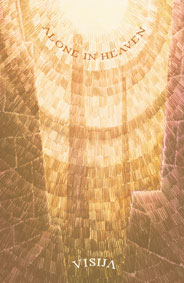 ~~~

[december 2010]!
ALONE: "SPOMENIK NEZNANOM UMETNIKU" CDr
the fifth-and-a-half album [or "sub-album"] by ALONE, containing 12 tracks and almost 50 minutes of music, is released by Nacionalna Asocijacija za Umetnost i Kulturu. Surprisingly sentimental, and largely inspired by the early 60's monumental soc-abstract architecture in former yugoslavia. details, tracklist and links to artwork and MP3s can be found here.
~~~
[december 2010]!
ALONE: "TEHNOLOGIJA - VRHOVNY REMIXES" promo CDr single
a collection of incredible hi-tec remixes of a classic alone track from Aeon Wave album, executed by mr. Ferenc Teglaš aka VRHOVNY, of CyberfArts / Dead Skull / NOIZBLEED / VIVIsect / etc... fame. a split release of NAUK and CyberfArts labels. more info here.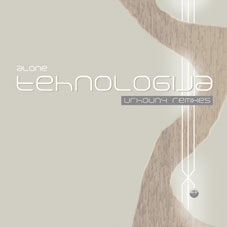 ~~~

STILL AVAILABLE:
ALONE: "FOSSILIZED IN CONCRETE 1995-2006 " LP
limited edition of 318 numbered copies, crystal clear vinyl with special comics artwork insert, on a wonderfull Treue Um Treue label in Germany.
a selection of 9 tracks from past 5 albums, which were previously available only in serbia. LP represents alone's low fi / minimal / wave sound of the 90's on A side, and post apocalyptic hi tec electronica of 2000's on B side. gloomy and cold as ever.
more information here . for orders, please visit http://www.tutrur.com/