New Features
Self-installation package
After you download the package, just start it and it will install itself properly. Uninstalation can be done through Start / Settings / Control Panel / Add/Remove programs.
Unsuccessfull download or corrupted package is now detected automatically.
Suitable for Windows 98
In short -- it works.
I installed Windows 98 on the machine which already had a few layouts produced with my program. More precisely, this machine had one US English, one Spanish and two Serbian layouts on Windows 95. After the installation of Windows 98 two Serbian layouts vanished from the taskbar indicator. I wasn't too surprised, so I just activated Keyboard Control Panel and added the layouts. Windows 98 took the files from the CD. Then I tried to copy JKG generated files over the ones which appeared in Windows\System. I was amused with the new look of Windows folder ("web page" look where I had to click on the link just to display the files in it).
I thought I copied files, but after the restart I discovered that one of two files was again Windows' original and not JKG generated one. I guess Windows 98 somehow overwrote this one with the original, but I am not sure exactly when it happened. I simply copied my files to Windows\System again, restarted once more -- and everything finally worked as expected.
I know that advertising materials for Windows 98 state that Windows 98 somehow protects its system files, but I still didn't read some more technical description of this behaviour. Did I really fight with this new feature, or I just didn't carefully copy the file in System folder? I still don't know. If you know more about it, send me an e-mail.
New Features in version 5
Main version mark 5 is reserved only for Enhanced, Worldwide and Professional releases.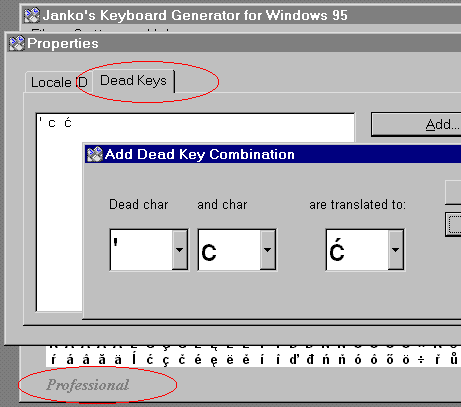 New Features in version 4.2
Added "File/Properties" dialog in which the internal "locale ID" code of the KBD file can be easily selected from the values found in Registry or can be independently specified. The previous version of the Generator always had one fixed ID, since I haven't found that Windows 95 used this information at all. Nevertheless the present behavior of Windows 95 can be changed by Microsoft in their next update of the system.
Added support for disabling "AltGr" behavior of the Right-Alt key.
Improved working with Open and Save -- now default extension is always written even if it is not typed.
Caption now shows the filename currently opened.
Added File/Save As dialog which will prompt you if you try to overwrite an existing file. File/Save presumes that you really want to overwrite the existing file.
Enhanced version of the Generator, available now, can save the definition of AltGr-Shift key combinations.
Professional version of the Generator, available now, can save the definition of AltGr-Shift key combinations and also generate dead key sequencies.