This program generates .KBD files for Windows 95, 98 and ME.
Janko's Keyboard Generator makes it easy to setup a native Windows 95, Windows 98 and Windows ME keyboard layout for any Latin or Cyrillic-written language.
Here you can see a short introduction and snapshots, and here a simple example that shows how to start using a newly created or downloaded kbd file.
The Most Frequently Asked Questions (Really!)
Q: Can Janko's Keyboard Generator for Windows 95/98/Me be used for Windows NT/2000/XP keyboard layouts?
A: The product deliberately named Janko's Keyboard Generator for Windows 95/98/Me can't be used for Windows NT/2000/XP keyboard layouts.
Reasons: The differences are extremely big, since Win 9x/Me has 16-bit keyboard code using codepages, and Win NT/2000/XP uses 32-bit code using Unicode. KBD files are practically "flat" files produced by assembler (linker does not add anything to such produced files), Win NT/2000/XP keyboard files are in fact DLLs which are produced with a C compiler and linker.
Q: Can Janko's Keyboard Generator for Windows 95/98/ME open KBD files shipped by Microsoft?
A: The product named "Generator" (and not "Editor") can't be used to edit Microsoft-generated files. However, it can open and edit the files it produced. Even more, the product for Windows XP which is in the development would be able to read the necessary information from the JKG generated KBD files and even from the keyboard DLLs made by Microsoft.
For anwers to other questions, please visit the Answers page.
Related Stories and Links
Find out how Janko's Keyboard Generator can solve your specific problem, or read what others say about the program.
You'll probably see that most of the links are about how to setup Windows 95, 98 and ME for Russian, but please note:
Janko's Keyboard Generator is not the program specially designed for Russian. on the contrary, I have received many letters in which people inform me that they used the program for: Serbian, Croatian, Macedonian, Polish, Russian, Mongolian(!) on the Japanese version of Windows 95 etc. There are more possibilities for other languages as well, but to use program on the languages for which you use dead keys, you should order enhanced version of the Janko's Generator. I have got questions about using the Generator for French, Dene languages (the languages of North American Indians), Iceland, Kyrgistan...
I am not a Russian, neither am using KOI8-R. Personally, it is easier for me to use 1251 code page which I do not have to add in any way, it came already set in Windows 95 Pan European Edition. So if you have any questions about KOI8-R, please ask about it somebody from the appropriate links.
Windows Developers Journal August 1999
In August 1999 issue of Windows Developers Journal the feature text is "Creating Small Setup Applications" by Janko Stamenovic (yes, that's me). I wrote this text about the technologies I used for the installation routines of JKG.
Microsoft Typography - Links and contacts
Yes, on the www.microsoft.com/typography there is a link to the page you are reading now.
Microsoft is providing that list of links only as a convenience to their visitors. Still, it's nice to be in such a good company.

Shareware library, first which linked Janko's Keyboard Generator.

Ziff-Davis, the publishers of famous PC Magazine gave four stars to this program. Read that review!

KOI8-R Russian Net Character Set
KOI8-R is the one of 8-bit character sets in which you can write in Russian. It is very popular among Russians who use internet, so that now both Netscape Navigator and IE support the tag for it. Maintained by Andrey A. Chernov.
You should read this site even if you do not want to put KOI8-R on your Windows. It is maybe the best site on the internet related to internalization of the software!
SovInformBureau -- Russify MS Windows: Keyboard
Maintained by Vadim Maslov, this SovInformBureau is not that InformBureau we know about from history. Author claims that this one is an ultimate source of information on things Cyrillic, Russian, and Soviet. Of course, he writes about Janko's Keyboard Generator.

Preston's Picks for July on www.hotfiles.com
Preston Gralla, ZDNet's "shareware guru," is executive editor of software for ZDNet. He put Janko's Keyboard Generator between top 10 hot free programs he recommended for July.
Turkish keyboard remapping in Windows
Maintained by Nigel Greenwood, contains the Keybaord layout which helps typing Turkish on the keyboards sold in US/UK.
Cyrillicizing Windows or Macintosh
These pages are maintained by The George Washington University Department of German and Slavic Languages and Literatures.
Paul Gorodyansky maintains extremely good pages on adjusting Windows for Russian.
UKRAINIAN AND RUSSIAN TRANSLITERATED KEYBOARDS FOR WINDOWS 98

This site contains very good step-by-step instructions on using Janko's Keyboard Generator and also some pre-made KBD files.
Cyrillic Font for MicroStation in Finland
See on this pages how JKG reached Finland.
Janko's Keyboard Generator reached yet another country.
(5-th leg? Or may be you need some of these?) By ETS Publishing House.
Visual International Transliteration
One more site that lists my program.
Japanese student who maintains nice pages about Mongolia -- (non-English pages!) generated with the JKG a KBD file for typing Mongolian.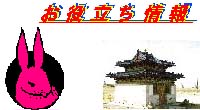 The Kualono service, designed by the University of Hawai'i at Hilo - Hale Kuamo'o office produced a free Hawaiian keyboard layout for Windows 95, using Janko's Keyboard Generator.

Thai Keyboard Layout for Windows95
To write Thai, up to now you had to purchase Thai Edition of Windows 95. But, students of The University of Electro-Communications, Tokyo (1-5-1 Chofugaoka, Chofushi, Tokyo 182, Japan) used Janko's Keyboard Generator to make it possible on any Windows 95, including Japanese Edition! Here you can see the letters of Thai language: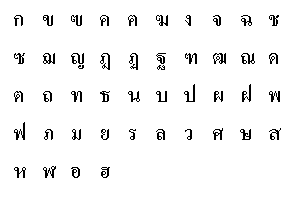 Alex Lane's Corner -- Code & Advice Page
Maintained by Alex Lane, a vice president at TechTrans International, Inc., the company that provides Russian language and logistics services to the Johnson Space Center in Houston, Texas. A set of already defined keyboard files can be downloaded from there, and also the scripts for Mac-to-PC and vice versa conversion of Russian documents.

Welkya -- Web Magazine For Bulgarian Art And Literature
Maintained by Tihomir Tochev. On "how to" pages you can read how you can use the Generator to type Bulgarian text on English-based (qwerty) keyboards.

Die Darstellung fremdsprachlicher Zeichen
Dieter Weiss (Weiß), from the Computer Center of University of Giessen (Hochschulrechenzentrum der Justus-Liebig-Universität Gießen) maintains this page about writing on foreign languages. Examples are on Greek and Russian.

Cyrillic keyboard setup for Windows 95, 98 & NT 4.0
Maintained by Gottfried A. Nestyak. There you can find the Cyrillic keyboard installation guide in pdf format and even video which you can download! Only in German. In a words of the author: Nun, im Vergleich zu den anderen Seiten hier, ist meine nicht so speziell, vielmehr soll dem Anfänger die erstmalige Installation der kyrillischen Schrift für Windows 95, 98 und NT 4.0 ermöglicht werden. Dazu gibt es eine PDF-Anleitung und für diejenigen, die es lieber direkt vorgeführt haben wollen, auch ein Video!
Slovo (Osteuropäische Sprachen in Windows 95)
A site with various info about setting up keyboards and fonts for different languages. Maintained by Christoph Singer, a German student of Slavic languages. His aim: to generate a keyboard layout based on German layout that would allow to write all Slavic languages.
A soldier Dave Emmert met his wife Sara while attending Basic Russian Course at the Defense Language Institute. Now Dave has an easy step by step instructions for setting Windows 95 for Russian Language.
Janko's Keyboard Generator in Finland
These pages are about Russian on Windows. CP 1251, KOI8-R, fonts, and of course 'Jankon näppäingeneraattorilla' (that's Janko's Keyboard Generator on Finnish!).
Janko's Keyboard Generator is used for making Norwegian Dvorak keyboard.
Die Düsseldorfer Virtuelle Bibliothek: Slawistik
University of Düsseldorf site on German with useful links related to Slavistic.
Russophilia! Russification Software Resources
Interesting site located in Australia.
Keyboard Layouts for Windows (RUFIN series)
Nice pages with the Russian phonetic keyboard layouts for Finnish keyboards maintained by Viktor Heimonen.
One student's page on Finnish about a kind od speed typing keyboard layout (I guess).
Die Ost-S(e)ite: Software für Osteuropa-Interessierte
Site on German devoted to East Europe related info.
Department of Asian Studies on La Trobe University, Victoria, Australia, uses JKG for Hindi lessons.
Microsoft Typography Hot link archive - July 1998
One more link to my pages found on Microsoft site. On July 1998 my program was "hot" there.
Latvianization of Electronic Mail
Hugo Atoms writes about latvianization of electronic mail. On Latvian, of course. Uses JKG.
Russischer Synodal Text der Bibel fuer BibleWorkshop'97
If I understood from the one glance, JKG was used in preparing some edition of Bible on Russian. German readers will understand better.
Russify Your Browser - Cyrillic letters in webpage correctly displayed
That's interesting site, called Vienna See! See! Has text on more languages.
Introducing the Dvorak Keyboard
Marcus Brooks writes about Dvorak keyboards.
Janko's Keyboard Generator in Sweden
Swedish Web Magazine HemData was the first foreign magazine which had an article about Janko's Keyboard Generator! The Janko's Keyboard Generator appeared on the Web on 3 October, and on the 9 October 1996 Jackie Bortz already had an article about it!

It Works on Arabic Edition of Windows 95!
Here's what I received from Mr. Noorliwal:
I have tried JKG Shareware version with Arabic Edition of Windows 95, JKG is universal, congratulation for your great contribution to the Internationalization of Windows computing. Now I am sure that you can market JKG for all versions of Windows.
It Works on Japanese and Korean Editions of Windows 95!
Thanks to Takashi Shimamura, now we know that Janko's Keyboard Generator works on Japanese and Korean editions of Windows 95. It solved problem of writing Mogolian under these editions of Windows 95. Here's the part from the letter:
Mongolia had her own script(vertical script). But In communist era (as you know Mongolia was the second communist country), they changed to Cyrillic script under the power of Soviet Union. After democratization in 1990, they try to turn to vertical script, but most of the people here are still using Cyrillic. They never used latin. Mongolian Cyrillic has 35 letters.
Maybe It Will Help With Dene Languages?
Some excerpts from the letters sent to me by Jim Stauffer:
"Dene" means man, or people, in most of the Athapaskan Indian languages of North America. In this language family there are perhaps a dozen or more main languages and numerous dialects from the Arctic Ocean to Mexico. Most Athapaskan languages are tonal languages which means the alphabet (and keyboard) must distinguish over 20 vowels, more in my case since I am adapting a system that covers all 5 of the languages in the Northwest Territories of Canada. There are several consonants which are not written in English as well. In the 19th century missionaries adapted a syllabic system of writing but it is mainly a mnemonic device rather than a phonetic writing system since it cannot show tonality or nasalization. The currently used writing system is based on Roman orthography with some international phonetic symbols added.
Literacy in the Dene languages varies from tribe to tribe but in most of the north it is still in its infancy. Although the languages are spoken and understood by thousands, only recently has it been reduced to writing in any serious way and taught in schools. For the last several years it has been the sole domain of Macintosh computers (except for an inconvenient, proprietary Word Perfect work-around and hand written materials) until I had a need to do some editing on a PC. I've developed a new set of character addresses and keyboard utilities which allow files to be shared across platforms. However new operating systems have quickly become incompatible with the keyboard definitions I was using on both Mac and Windows.
I should say I adapted it because the government has had 2 or 3 systems already but they worked only on Macintosh. I've got my system working but my windows keyboard remap only works on Windows 3.x. I'll let you know if yours will meet my needs.
Janko's Keyboard Generator in Israel
Maintained by Anton Nossik. Contains tips on using the Generator.
Using a Japanese Keyboard with English Windows 95
Read in article from Computing Japan what Japanese users had to do before they have heard for Janko's Keyboard Generator.
Janko Keyboard from XIX century(!)
What a coincidence. This piano keyboard was patented in 1882 by the Hungarian, Paul von Janko.
Invitation
Please send me the information about your home page if it has anything about keyboard customization in Windows 95/98 and if you mention my program..
Please also send me the information about updated links! Unfortunately I don't have the time to check each link on this page. If you find some link is outdated, please try to send me a newer one. .
News
08 September 2001

A letter from George Primak finally made me updating or deleting some of the links on this page. Generally I didn't want to maintain the links all the time. That's why I didn't put just links, but enough information to give you a keywords for a search engine, that is, for Google. Please, when you find a bad link, try to find the new on yourself, and then please send me the new one. If you don't find the new one, than please send me that the information is no more available. Thanks.

21 August 1999

Minor updates of the page: added one link (to Viktor Heimonen's pages), changed link to wdj site since August is archived.

3 August 1999

The first part of 1999 was extremely hard for me. My country was under 77 days of bombardment by NATO. Some of the bombed buildings in the city of Beograd, my hometown, were only few hundred meters away from my flat. I didn't have the time to maintain the page from the middle of March up to now. I also missed to reply to some e-mails. I apologize for all unanswered letters. Anybody who didn't get the response can write me again -- I hope such problems will not repeat anymore.
Added link to WDJ -- the magazine in which my article appeared as the main article of August 1999 issue. The subject of an article is how to make really small setup program. First use of described technology was installation of Janko's Keyboard Generator.
Added some new links.

20 December 1998
25 October 1998

Added answers to the following frequently asked questions:

How to reprogram Japanese based keyboards
Why all Unicode symbols are not accessible from one keyboard layout on Windows 9x
Why there aren't accented vowels available in Cyrillic keyboard layouts?
What's the key in the bottom right corner

30 August 1998

New links to:

Preston's Picks for July on www.hotfiles.com
The George Washington University Department of German and Slavic Languages and Literatures
Russian in MS Windows by Paul Gorodyansky
Cyrillic Font for MicroStation in Finland
DATORER OCH DATABEHANDLING
Japanese page
Multilingual bells & whistles
Visual International Transliteration

23 August 1998

Added new answers to some frequently asked questions.
The self-installing code now checks file consistency. Bad downloads are going to be recognized and reported by the installation program.
Link to A. Chernov's pages is updated in the program.

15 June 1998

The self extracting code is small again (a few KB), and works on all Windows 9x variants.

2 June 1998

Self-extracting code was very small -- but then it worked only with IE4 or Win98 or NT 4, and not on plain Win95. So I had to use MS code which is considerably bigger. Out of 230K in self-extracting archive, now 90K is extracting code. :(

1 June 1998

The package became self-extracting executable. Up to now, the Generator was distributed in a ZIP archive.

15 May 1998
11 May 1998
14 Mar 1998

Shareware version fix -- fixed Code assign dialog anomaly reported by Hank Leukart.

8 March 1998
4 Feb 1998

Complete site redesign. Various fixes of the site content.
New content -- Purchase page (up to now only e-mailed on request).