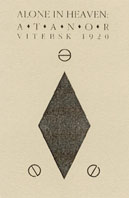 ALONE IN HEAVEN: ATANOR MC
ATANOR appeared in 2002 on cassette only. It is the hermetic soundscape, a document of introspective alchemyst's transformation, a night-diary from oratorium. for full track listing and lyrics, go here.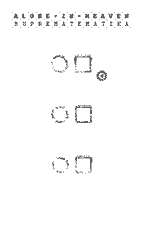 ALONE IN HEAVEN: SUPREMATEMATIKA MC 2004.
released on tape around the 10th anniversary of founding Alone. minimalistic suprematistic recordings, almost entirely without substance. based on the number 15. figure on the cover was done by DANIJEL SAVOVIC. only 15 copies, not for sale. for full track listing, go here.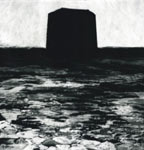 UNEXISTENCE & ALONE IN HEAVEN: ZDANJE CD3", minimalna izdanja
a split mini disc released 2006. containing tracks 'S.O.S.' and 'ZDANJE' by ALONE IN HEAVEN and three tracks by UNEXISTENCE plus video for ALONE IN HEAVEN's 'ZDANJE' created by UNEXISTENCE. cover illustration by n. vitkovic.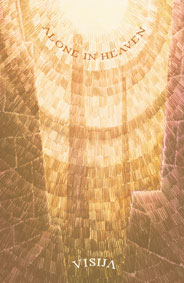 ALONE IN HEAVEN: VISIJA MC 2011.
full length instrumental album of pre-industrial electronic sound[noise]scapes. a collection of national anthems of VISIJA, at the peak of its spiritual and technological renaissance.
for full track listing, extensive liner notes and MP3 samples, go here.

~~~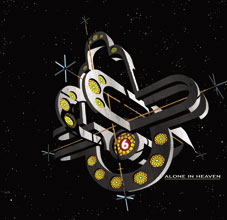 ALONE IN HEAVEN: "UNTITLED / AZOT" CDr 2011
a double EP with glossy colour booklet, released on prestigious micro label 0.5 in croatia.
more information and tracklist here.
buy CD-r / hear MP3 here.

~~~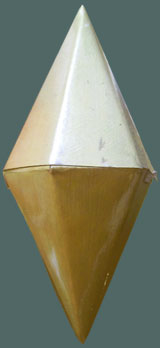 ALONE IN HEAVEN: "POSLEDNJA MUZIKA"
single sided cassette album, limited edition of 55 physically modified copies which can be played only once, handmade packaging, released by No Basement Is Deep Enough #31. more details here.

~~~



ALONE IN HEAVEN & MAGMA TRAKT: "ZARDOZ"
limited edition tape [80 copies] & digital release on SEASTATE
44+ minutes long synthetic sci fi symphony with a pseudo scientific lecture / sermon about the entity and cult of ZARDOZ. inspired by a vague, sketchy memory of a few scenes from a movie of the same name i saw decades ago as a child. tape edition contains a 31+ minutes long bonus track.
more info and lyrics are here
promo video is here.
stream the album and get your copy here.

~~~
the first public ALONE IN HEAVEN's performance took place at planetarium in belgrade, december 2002 [star date 2.452.622].
under mismanipulated projections of the starsky and audiovisual stimulation by advanced vitebsk laboratoratory's technology, the scientific and artistic underground elite of belgrade and arandelovac contributed their senses for 90 minutes to teleopathic communication with lost astronaut Stanojevic on its way to mythic oval. mission successfully accomplished.

the second public demonstration of ALONE IN HEAVEN happened in collaboration with great serbian painter DANIJEL SAVOVIC, at monumental TELEOPTIC technological and scientific complex in zemun, spring 2003. technologic elimination of obsolete matter from form. this was one of the first acts of "high art of new age". however, mission was only half-acomplished. project is still in progress.

the third public demonstration of ALONE IN HEAVEN was in october 2012 in KC REX, belgrade, in a form of video work 'uvodno' and 1st public demonstration of POSLEDNJA MUZIKA album, on an exhibition of ZAVOD ZA ISTRAŽIVANJE entitled REČ SLIKA ZVUK.

the fourth public appearance of ALONE IN HEAVEN was on TOPLOTNA SMRT SVEMIRA event in planetarium in belgrade, december 2013, hosted by NEMA TOG PODRUMA and NAUK, in a form of short video, along the performances of -MRTVI-, POSLEDNJI and UNEXISTENCE.

~~~

track list from VODILJA:

1. Amnesia
2. Mantra Triviada

3. Oval

4. Hypnos

5. Continuum

6. End of Time

7. Oval 2

8. Placenta

9. Absolute Falling

10. Will we ever meet again? 1&2


track list from ATANOR:

1. Hopeles waiting

2. Alpha-Maria

3. Sky is wall

4.

5.

6.

7.

8.

9. The Corner

10.

11.

12.Cold love

13.

14.

15.

16. Sveca se gasi

+ bonus track: Hermeticki trijumf
track list from SUPREMATEMATIKA:
A N T I M A T E R I A L I S M
A N T R O P O M O R P H I U M
E C T O P L A S M A C H I N E
P A R A B N O R M A L N O S T
P A R A P S Y C H O D E L I A
S U P R E M A T E M A T I K A
M A T R I A R H E T I P O V I
I N T E L L E C T R O N I C A
D E K A D E N T R O P I J A T
M O N A R H I T E K S T U R E
M O N U M E N T A L I T E T I
D I S D I S C O N T I N U U M
P E T N A E S T H É T I Q U E
U N I V E N E R O L O G I K A
L O V E C R A F T W E R K E R
selected lyrics

AMNESIA

[written as an epilog for Kirlian Camera's ERINNERUNG]

only colours / one colour only, smiling at me / one little smile is enough for one little eternity / no more traces of sickness / no trace of conciousness and no past / no outside, neither inside / my closed eyes are somewhere far away from reach / sweet dreamless void of deep alien coma / if... if I forget you... promise you won't forget me [ostaje samo beznade]

MANTRA TRIVIADA

[mixture of Slobodan Tisma's poems from his beautifull book Marinisms.]

Pljujem iz oba oka sa grimizne visine, provodim poslepodne slep na zlatnom povetarcu... Pogledavsi ujutro sa prozora pucinu, samo beli sum, nigde ni traga od vode... More je purpurno, more je crno - plavo, more je ruzicasto, preokrene se voda... Crveno kao plavo, plavo kao zeleno, zeleno kao belo, belo kao belo kao

OVAL

Abstract form without time, colours, shape, dimensions, quantity and quality, like an abstract thought of its experiancing, calls us to enter. There is seven of us, excluding Fear and Amnesia, those scars of dead souls and us. We're surrounded by spheres with no answers and questions, world out of Reasonable. We float, and we wait. They all enter, so shall we, when the doors open. But the doors are not in it - doors are here, in ourselves, inside, in our hearts. We must kill them and freeze them to make them hard enough. Then, they will open like roses in the greatest blooming day of a year, and poison themselves with aether of coldness and abstract Evil.

END OF TIME

[Final countdown, voices of time, J.G. Ballard]

Like waiting to hit the bottom of endless Chasm... That's how now I feel... Counting last seconds of time.Waking senses, feeling but understanding nothing. What is this? God's EEG analyses or his kharma preparing for the next transformation? However, we're below 20.000 and I am here alone without you. Counting last seconds of time. Ultimate loss of memory... I'm afraid! Like this ending is neverending... counting last seconds... of everything. Now, as I'm about to solve all riddles of existance, I miss the time of uncertainity... If you hear me please come before the last thousand, before it's too late to recall your face... or at least come before last hundred to watch the imploding of galaxy.. or before 30...or 10... please, come before last 10 to say goodbye... or before 0, before we die.

OVAL 2

[same as OVAL but on serbian]

Apstraktna forma, bez vremena, boja, oblika, dimenzija, kakvoce i imena, kao apstraktna misao o njenoj spoznaji, zove nas da udemo. Ima nas sedmoro, ne racunajuci strah i amneziju, oziljke mrtvih dusa, i nas. Okruzuju nas sfere bez odgovora i pitanja - svet izvan razloznosti. Lebdimo i cekamo. Svi oni ulaze - uci cemo i mi kada se vrata otvore. Ali vrata nisu u njemu, vrata su tu, u nama, unutra, u nasim srcima. Moramo ih ubiti, ohladiti i zalediti da bi bila dovoljno jaka. Tada, ona ce se otvoriti, poput bokora u naj cvetnijem danu godine, i trovati se eterom hladnoce i apstraktnog zla.

PLACENTA

Just like Space, Everything has inclinations for spreading... but not me, neither should you. The World is not quite best world for inhabiting. Cut off your senses, smells and memories, and cut off your body and forget it. One molecule of soul is enough to create in it better universe. Something between The Womb, Hanging Gardens, Serdab, Net of underground channels, Cradle, Gallery, Holy Ground, Water, Sky, Air, Metal, Glass and Ice, Virtual reality, Hermit's cave, Space capsule... Lasting is meaningless, importance of a spot is in it's being - it has no dimensions.

ABSOLUTE FALLING

[Motionless and emotionless joy of melting into sound, remix of cyberfart's MMC classic]

Goodbye, stranger, I've never felt so alone... Goodbye my very elusive stranger, I was your and you were my VERY DEEPEST FEAR! And what if I realise that there is no waking from this Dream? And if this black hole is what you call "the sun", I'll just follow the stream... I'll just follow the stream... I'll just follow the stream... I'll just follow the stream... MMC! MMC!

WILL WE EVER MEET AGAIN? 2

[Polar night falls...]

Cujem otvaranje vrata, ali vidim da su zatvorena. Vreme ne prolazi. Zamisljam poznati dodir tvoje plave aure... Osecam kako me Zemlja vuce k'sebi i pada polarna noc u sobi broj 19. Dobrodosla si u svitanje. Dobrodosla si u sumrak. Dobrodosla si u ponoc. Will we ever meet again?

WILL WE EVER MEET AGAIN? 2 [translated]

I hear opening of the door, but see them closed. Time stands still. Imagining the familiar touch of your blue aura... I feel Earth dragging me down and polar noght is falling in the room number 19. You are wellcome in dawn. You are wellcome in twilight. You are wellcome at midnight. Will we ever meet again?

ALPHA-MARIA

ostalo mi je jos devedeset pet galaksija do kraja
i ne verujem da cu ostati budan.
jos uvek iz galaksije paucine odjekuje
gresna energija u melodiji tog bica.
zasto me progoni?
kakvo je to novo svetlo na rubu ekrana?
kao zla zvezda, kao enigma,
javlja mi se
ALPHA-MARIA

sve u mom domu, ukljucujuci mene, je opustoseno.
sve na mom brodu, ukljucujuci prozore, je okruglo.
u dvadeset casova i tri minuta
kroz okrugli prozor vidim Juno
i shvatam da je mapa lagala.
jedno je sigurno: drugog izlaza nema
i ako je potrebno znati kuda me on vodi,
dve su reci dovoljne
ALPHA-MARIA

6.

tkanje prostora, bezbojno i, samim tim, neobjasnjivo. ali kako mogu osetiti bezgranicni uzas cija zapremina premasuje zapreminu moje duse? mozda ako bih oslobodio deo duse koji delim sa tobom. mrznja: samoca. samoca. i opet, prostor ostaje izvan moje sfere. mozda je ipak strah najdublji drhtaj koji potresa ovu tanku strunu duha. i zato, strah, strah, strah. i opet ostajem prazan u svom slepilu. izgleda da je moja ljubav bila samo deo straha od tebe [for without you i, was lost]. [pusto, pusto, pusto mi je sve / nema / nema moje jelene / dodi / dodi lena jelena / ti si moju mladost uzela]

THE CORNER

siguran u sebe, siguran, cekam, merim. prvi put sam poceo sa obicnim antenama i antenskim kablovima. slika koju sam dobio bila je u loopu. slucajno sam otkrio da sa gvozdenim predmetima mogu uhvatiti fokusiranije slike. jos uvek nisam pokusavao da izdvojim zvuk iz bele buke. tek sa velikim cilindrom iz bojlera sam slucajno uhvatio pravi signal. nisam raumeo o cemu govori. tada jos uvek nisam znao da signal nije emitovan da bi bio protumacen, ali posle nedelju dana, neke stvari su mi bile jasnije. ne slike, brojevi, lica, mrlje, frekvencije i waveformovi astroplazme koju sam belezio, nego cinjenice o njihovom postojanju i cinjenice o postajanju svih ovih, ostalih stvari. nabavio sam kamion opreme. nista hi-tech, u glavnom stara vojna oprema za prisluskivanje. sa satelitskim tanjirima napravio sam jako osetljive instrumente. tada sam otkrio gde je signal najjaci, po sivim coskovima sivih soba u sivim kucama... makrokosmosi u paucini. frekvencije cije amplitude traju danima... ali waveform je delikatan. ponekad, fizicki zvukovi uguse talase i imam stalno problema sa opremom. ali siguran sam u sebe i ne odustajem. cekam i belezim sve, trudim se da jos izostrim signal jer ovo je, po mom proracunu, manje od 5% punog signala. probacu sa nekim legurama u sklopu antene...

SVECA SE GASI

lost, anywhere
maybe in the moon's magnesium mines
behind the closed eyes
behind the closed eyes

the oval secret sleeps
in the interrior of the face
in superior dreams
in superior dreams

the oval is asleep
the oval is asleep
the oval is asleep

after shutting down the sleep
and returning into darkness
beyond the closed eyes
beyond the closed eyes

forgetting all that was
forgetting all that is
and all that could ever be
and all that could ever be

nothing could ever be
except
nothing could ever be
except
nothing could ever be
except
nothing

the last focus of glowing
surrounded by the nothing
it's the trace of candle, fading
trace of candle, fading

shy, glowing red,
than growing faint and dead
a trace of candle fading
and than it fades away