How it looks like and works
Select a thumbnail to see the entire image.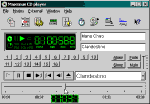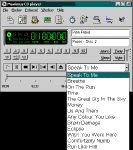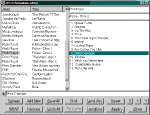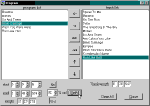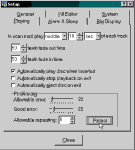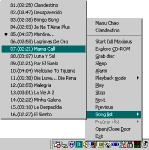 Main window/Positioning
Track selection
INI Editor
Programmation of tracks
Antiflicker/blockades
SmallCD

Maximus is a CD player for Windows 95, 98, NT and 2000. It is freeware, which means that you don't need to pay any money for it but you mustn't be payed to distribute or give it to anyone.

Here there are some of the Maximus features:
Naming discs and tracks with no length limit
Using existing CDPLAYER.INI (disc database of the standard Windows CD Player), even greater than 64k
Direct jump to any track on disc using its number or song name
Jumping to any position within tracks
Can be minimized to system tray (next to clock) using SmallCD
Programming

Track order and listing
Portions of single tracks
With fading effects and own volume settings

Editing information about discs even if not present in drive in that moment
Immediate panoramic view of all artists and songs of any disc
Fading (in/out) effects
Different playing modes (shuffle, intro scan, single) and repeating
Alarm option
Sleep option with fade out
Volume control and mute option directly in Maximus window
You can record if you lent discs to friends
Antiflicker and antiblockades scheme
Spectrum analyzer (GISSS)
Fully customizable fullscreen view
Really customizable interface
Can be associated to Audio CDs instead of standard CD Player very easily
Can be loaded automatically at each startup
Can continue playing the last track played before Windows was restarted or closed
When minimized to system tray Maximus unloads and passes to SmallCD which

Uses only 80k of RAM
Displays song names and lets you choose song by name
Includes traditional commands like Play, Stop, Next Track, Previous Track
Can use the same program you set up with Maximus with the same features
Can use the same playing mode
Shares lots of other Maximus features like alarm and sleep options.
Artifakt by ThanatouAnghelos, 2000